Little Hills Christmas Tree Farm

961 Chapman Lane, Petaluma


Choose & Cut Trees
Depending on the whims of Mother Nature, the size and lushness of the trees can vary from year to year. The ability to choose from the largest and freshest selection of trees ensures that your family will find the perfect tree at the perfect price.
We have choose-and-cut Monterey Pine, Carolina Saphires and Leyland Cypress trees.
Choose & cut fields close at 5 pm!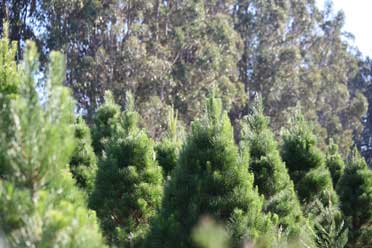 Each one of our choose-and-cut Christmas trees has its own unique look and attributes. Let us help you find the tree that best expresses your family's Christmas spirit.
Click on images to view larger.
Monterey Pine
The Monterey Pine is the most widely planted pine tree in the world, known for its rapid growth and diversity of uses. It also makes a lovely Christmas tree, with a fresh look that can be described as rustic, natural and authentic. You'll love how it brings a hint of the outdoors in, and delivers an understated appeal to your holiday theme.
Leyland Cypress
There are no naturally occurring Leyland Cypress trees – each one is a hybrid of the Monterey Cypress and Alaskan Cedar. The species was discovered in 1888 by C.J. Leyland at Leighton Hall, an estate in the South of Wales. The two parent trees crossbred on their own and purely by accident, creating a tree that is simply ideal for Christmas trees and ornamental plantings. The foliage is a very deep forest green and will complement your traditional Christmas décor perfectly.
The Perfect Tree
We want you to not only have a pleasant time at the farm, but to also bring home a quality tree that brings a smile each time you look at it. Monterey Pines, Carolina Saphires and Leyland Cypress Trees flourish under our watchful care. Each one is grown naturally, with no added pesticides or chemicals, so you can be sure that you bring home a fresh, locally grown Christmas tree without any worries. Plus, we bring in fresh-cut Noble Fir, Turkish Fir and Douglas Fir trees and keep them bright, green and fresh by providing lots of water.
Once you've chosen your perfect tree, shaking and netting is available for easy transportation. We provide plenty of twine so that your tree arrives home safely. If you need help cutting your tree, we can do that too.