A Very Special Place


When you visit Little Hills Christmas Tree Farm, you're stepping on to a property steeped in history. Nestled in the hills of the western Petaluma countryside, Little Hills Christmas Tree Farm represents the evolution of this very unique part of the world.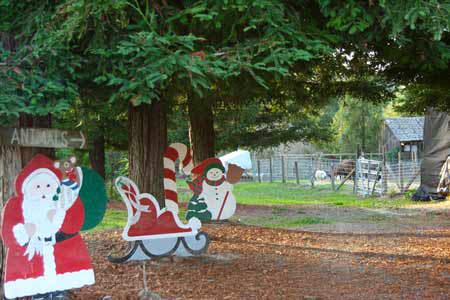 "Petaluma" is a Native American word that's over 5,000 years old, and is translated to mean "Valley of the Little Hills" or "City of the Little Hills." The region's abundant resources have beckoned to mankind for centuries. The Miwok flourished here for over 3,000 years, finding ample food and supplies in the river and marshlands and thriving in the mild climate. In 1846, Spanish land grants were established along the Petaluma River, and the region was considered an economic and social center.
When the 49ers arrived to seek their fortunes in the region in gold, the Petaluma River area was the prime source of wild game, and for years wild game was the primary export. The easy navigability of the Petaluma River contributed to Petaluma's commercial success, and from the 1880s through the 1940s, Petaluma's residents enjoyed great wealth due to the poultry industry. In fact, Petaluma was once called the "World's Egg Basket."
The high costs of poultry farming led many of the larger producers into consolidation, putting many of the smaller farms out of business – and leaving behind ranches and farms that were well-suited to other agricultural pursuits.
Enter Kriss and Carol Mungle, who purchased one of these former chicken ranches and transformed it into a Christmas tree farm that was soon to become one of the most appealing Christmas destinations for families from the local area.
Little Hills Christmas Tree Farm is a place to celebrate Christmas, but also a place to recall the nostalgic charms of Petaluma's past – a past filled with small town family farms. Little Hills Christmas Tree Farm represents the transformation of Petaluma's storied past into a sustainable future; a future that includes viable family farms, healthy habitats for our animal friends and gathering spaces where families can create memories that will last a lifetime.