Why Fresh Christmas Trees are
Good for the Environment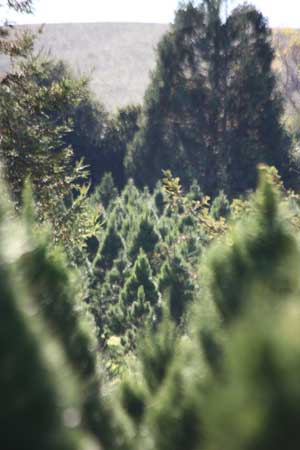 When you cut a tree at a Little Hills Christmas Tree Farm you help stop global warming. How's that again? Isn't it supposed to be plant a tree, cool the globe? Not when the tree is a real Christmas tree.
That's because Christmas tree growers nationwide have planted over one million acres of trees. Most of these trees are planted on marginal soil not suited for other forestry or agricultural purposes. Christmas trees are grown on farms and plantations for the specific purpose of being harvested as Christmas trees. These trees are grown on farms, not in forests, so when you harvest them you are not taking anything out of the natural world. Instead, you are supporting a family farm, shopping local and helping to protect a greenbelt in your community.
During their growth cycle trees grown for harvest add beauty to the landscape and shelter for wildlife. These trees also clean the air by absorbing carbon dioxide-laden air and sending out fresh, oxygenated air. Environmental experts point out that tree farms fight the greenhouse effect directly by providing cooling and air conditioning greenbelts in our hot cities and towns. These tree plantations would not exist without the demand for real Christmas trees.
Christmas Trees are a Renewable Resource
When a Christmas tree is harvested another tree is planted in its place, continuing the growing cycle. Christmas trees are also 100% recyclable, with the most common recycled product being garden mulch. Your Little Hills Christmas Tree Farm tree can be recycled by participating in the countywide Christmas tree recycling program.